HBC Organics
Regular price
Sale price
$9.25 USD
Unit price
per
Sale
Sold out
Our divine magic collection is finally here! Divine Magic is Through the crystal ball where Goddess Divine and Magic Man meet. Mandy from Synelse actually saw the connection that would be Justin and myself about 2 months prior to the connection beginning. Justin and I are grateful to where both of our businesses and lives are now.
This blend contains essences from through the crystal ball, magic man, and goddess divine to create a whirlwind and passionate experience. This is a unisex scent so both men and women will enjoy it! 
Divine Magic is all of you- it is the community we've created and who we are so thankful for. We are humbled and blessed to be leaders in this community and hope we can always be here to support you all the way you have supported us. Divine Magic is our love letter to all of you!  
This includes the beer soap, wood wick candle, roller bottle with crystals, massage & body oil, & whipped body butter. 
-The beer soap includes craft beer, raspberry seed oil, jojoba, babassu, olive, and cocoa butters. Perfect for men and women alike- per head to toe. 
-The essential oil roller bottle is made with avocado oil as the carrier oil and contains amethyst, obsidian, and rose quartz.
-The wood wick candle is a 12 ounce candle- set your intentions and let her burn. 
-The massage & body oil is made with an organic oil blend of (avocado, hemp, jojoba, and raspberry seed), botanicals & essential oils, amethyst crystals. 
-The body butter is the large body butter made with organic avocado oil, reverse osmosis water, natural beeswax, and the botanical and essential oil blend. 
Share
View full details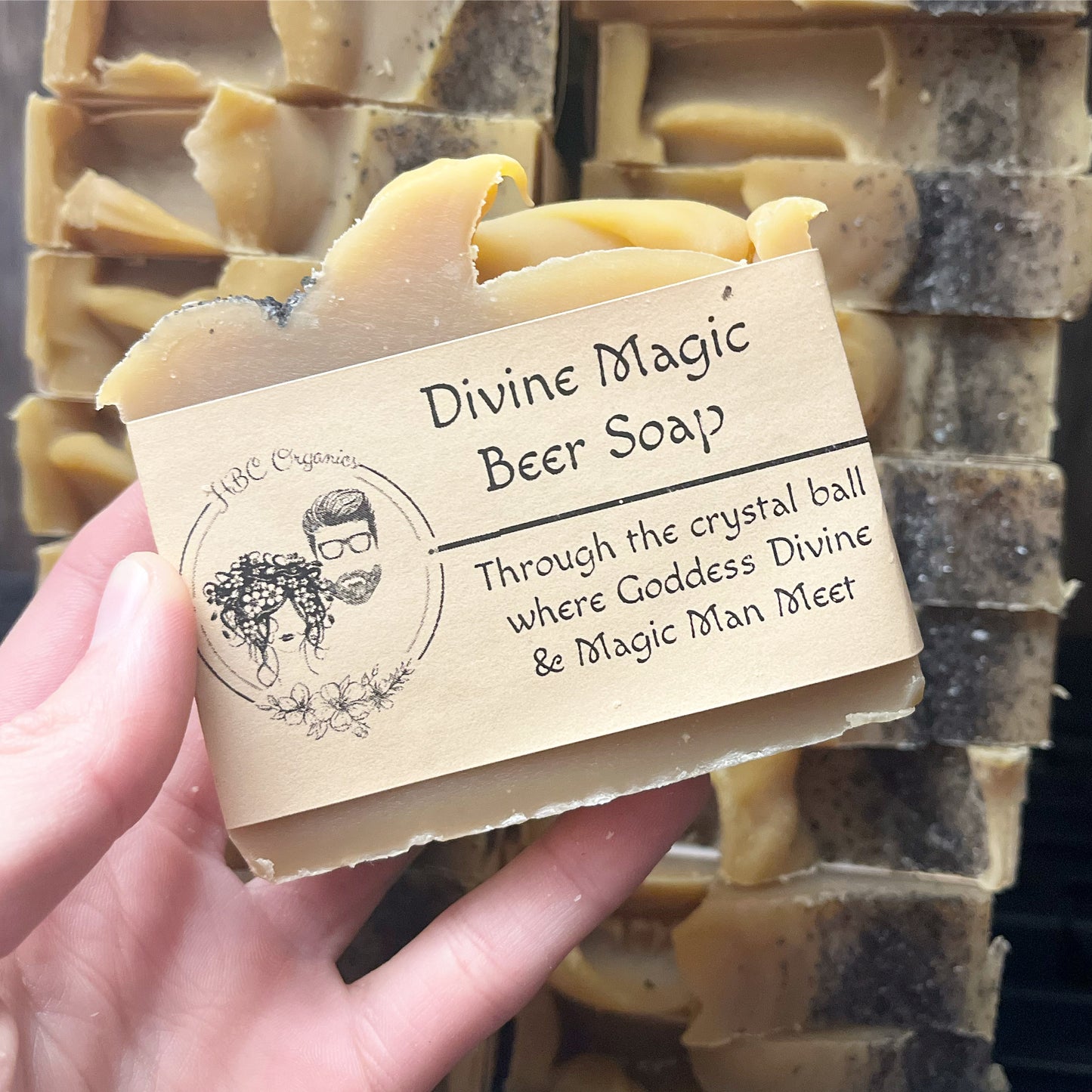 One of my favorites
This is the perfect blend of Magic Man and Goddess Divine (I haven't smelled Through the Crystal Ball). I really love this soap, lathers nicely too!