HBC Organics
Regular price
Sale price
$18.50 USD
Unit price
per
Sale
Sold out
This is an amazing blend of organic avocado, extra virgin olive oil, and jojoba oils that are infused for 3 lunar months with fresh herbs! The herbs are frankincense, thyme, and lemon balm.
This is the best all purpose balm you will ever find and I can stand behind that ! 
It has been used to treat the following:
Diaper rash (even in cloth diapering), psoriasis, eczema, acne, cystic acne, toe fungus, cracked skin, dry skin, cracked lips, dry lips, chapped lips, chapped skin, sun burn, 1st & 2nd degree burns, some 3rd degree burns, moles, stretch marks, cuts, scrapes, bruises, hot spots on animals, nipple balm (nursing balm), cradle cap, and much much more! 
We have had many many parents who have come to us with children who have very serious skin issues, whether it is a burn from a diaper, eczema, a reaction to other skin care products, and more. We are humbled and happy to be able to help almost all of these children! 
Share
View full details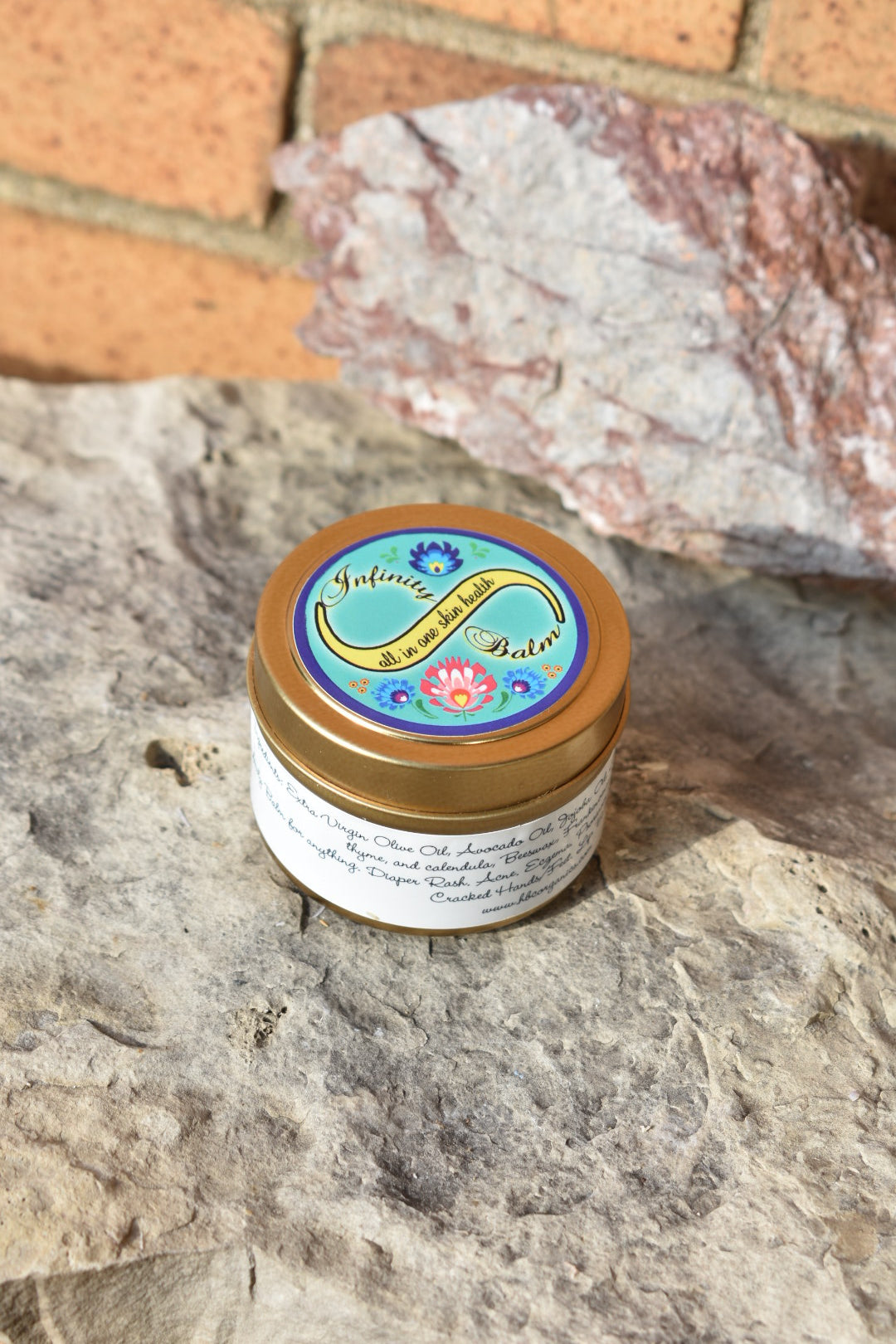 Y'all need this
This stuff is amazing for scrapes and cuts and anything that needs healing love this stuff I keep on hand all the time
Incredible
This stuff is great to keep around and works incredibly well!
Starts working instantly
Got this for my daughter who has extremely sensitive skin. (Like if I put lotion on myself and touch her skin it starts reacting!) this balm works wonders for her skin. Especially when I put it on her before bed!
Amazing!!!
I have dry patches of skin that itch very bad at times and I have tried alot of things to help with the discomfort. I saw this and ordered it and it helps so much that I will be buying more. Thanks Jes for everything.
Infinity balm
I sent a message through the website asking for a tattoo after treatment and infinity balm was recommended. Without question the best product i have ever used to heal and comfort inflamed skin. Took only a few days to heal with took the discomfort away the instant it was applied. I have never purchased a product from Jess that didn't exceed my expectations in every way, and this was certainly no exception to that.