HBC Organics
Regular price
Sale price
$27.95 USD
Unit price
per
Sale
Sold out
NOW in a bigger jar-- 20 ounces vs our original 16 ounce...Our beautiful, clean burning candles are just what you need to add to your home to make it all warm and cozy! HBC Organics is one of the few companies using an organic coconut wax for their candles & organic cotton wicks. 
Here are some reasons we love coconut wax! 
* Beautiful Color - from bright white to creamy and opaque
* Odorless - does not smell like coconuts
* Has a superior scent throw (both cold and hot)
* It burns longer and cleaner
* No additives are required
Scent Description:
 -Goddess Divine- The blend combines clove, cinnamon, white pepper, light & dark ambers, sandalwood, jasmine, rosey musk, and vanilla.
-Emperor- If you purchased Cognac & Rum before this is that blend! Renamed for it's strength and stability. 
-Whiskey Barrel- Aged oak with whiskey, cedar, and honey. 
-Magic Man- is smoky, mysterious, addicting, spicy, and has a bit of musk to it. The blend combines clove, cinnamon, white pepper, charred cedar, fir, birch wood, torch wood, bourbon vanilla, and musk. 

-Vanilla Espresso- Bold espresso coffee with warm milk, cinnamon sticks and a touch of vanilla.

-Let's Be Passionate- A fun fusion that inspires self-love and fosters peace and forgiveness just like the rose quartz crystal. 

-White Tea- Elevate the senses with the soothing essence of white tea!

-Gogi & Guava- Radiant droplets of mandarin shimmer upon sweet, sparkling goji. Sugary nectar of deliciously ripe Guavaberry trickles over petals of tropical hibiscus.

-Sweet Tea- Refreshing tall glass of freshly brewed, sweetened iced tea on a hot summer afternoon.
-Earl Grey- Clean, crisp orange notes are followed with  subtle hints of jasmine, lavender, and light rose. 
-Crunchy Autumn Leaves - orchid and Ylang dance on top of sandalwood, patchouli and freshly fallen leaves. A woodsy, earthy fragrance that invokes warmth in the heart.
-Hello Autumn- Gingerbread, fresh apples, warm vanillas, and brisk breeze.  
-Flannel Sheets- warm blend of bergamot, mahogany and a delicate veil of musk. 
-Oktoberfest-warm pumpkin, nutmeg, cardamom, caramel, cigar smoke- various spices and sugary notes. Smells like Frankenmuth! 
-Blueberry Lemonade- Fresh blueberries combined with lemon zest & sugar cane make a fruity and delightful candle. 
-Just Apple- Slice open a macintosh & honeycrisp apple and this is what you get! 
-Blueberry Muffin- freshly baked blueberry muffins with exploding blueberries! 
-Cinnamon Stix- all the cinnamon with a bottom note of vanilla. 
-Orange Cinnamon Clove- Citrusy Orange meets clove and cinnamon for a simmerpot feel. 
-Pumpkin Marshmallow- warm, melted, gooey, caramelized marshmallows, sprinkled with pumpkin pie spice.
-White Pumpkin- Our new grounding blend is calming and inviting. Ghost pumpkins symbolize growth, prosperity and abundance. This scent definitely has an abundance of fresh pumpkin blended with refreshing wild, sweet orange, kitchen spices and then is sweetened with maple and coconut cream.
-Headache & Allergy- combines menthol rich peppermint & spearmint with clove to clear out the sinuses and help with headaches
-Peaches and Cream- Fresh Michigan peaches with some vanilla cream.
-Apple Cider- Fresh hot apple cider with notes of nutmeg and cinnamon.
-Forest Waters- fantasy rich stream rolling through a mossy forest. 
-Burnt Bourbon & Butterscotch- Sweet butterscotch and brown sugar middle notes are spun with top notes of peppercorn and warm cardamom to evoke memories of homemade golden confections.  
-Church Bells- smells like a old church. 
-Sweater Weather- the warm comfy spices and creamy vanilla/coconut
-Unscented- no scent added candle. 
Share
View full details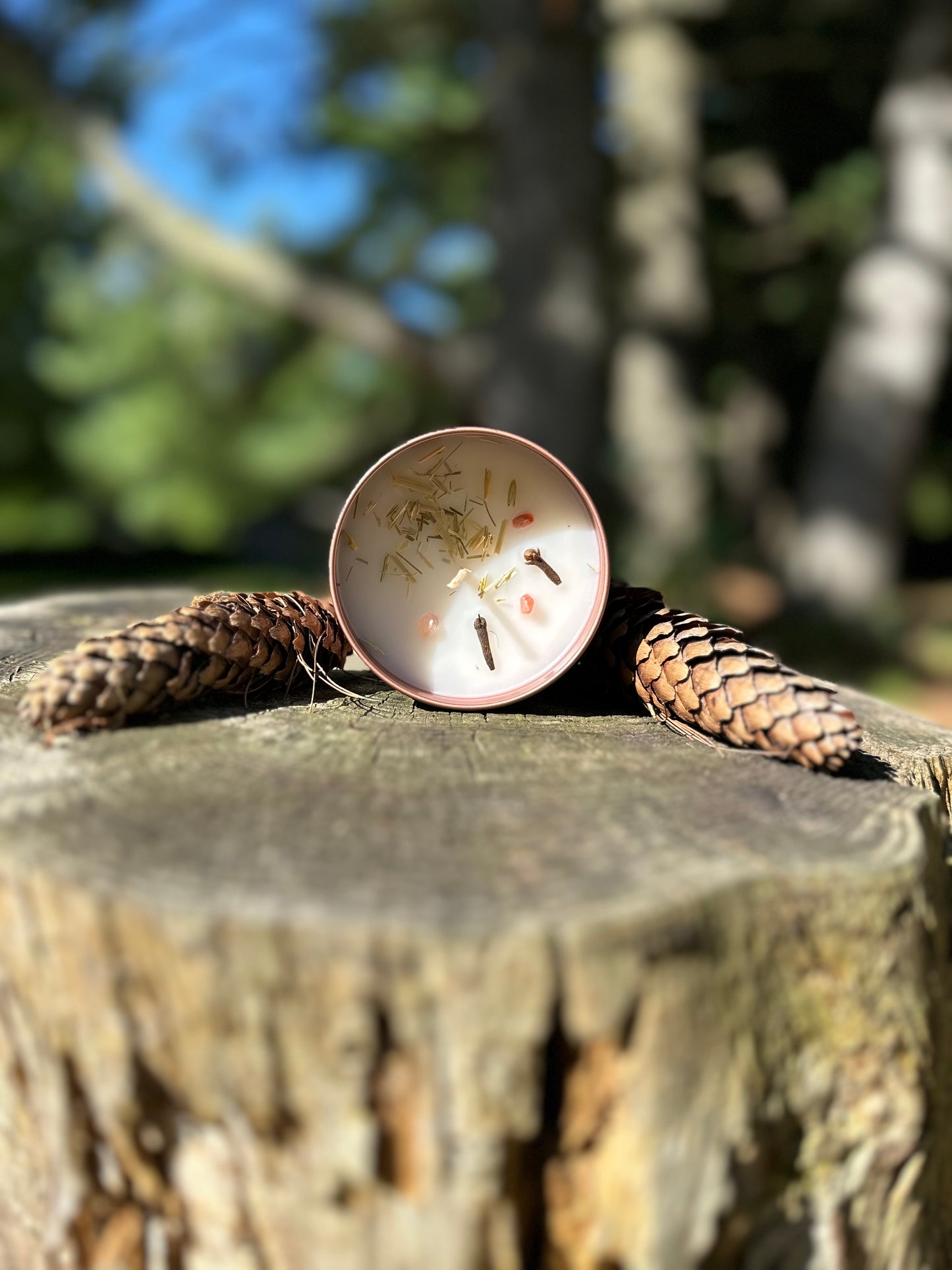 Hello, Fall!
I'm obsessed! This candle smells like fall and makes me feel very at home. All of her candles smell amazing and are such high quality.
Great candles!
Love, love, love these candles and this company.
Great candles!
I love these candles. They give off a great scent throw. Clean burning. The scents are unique. Really great candles!
My fav candles!
HBC's candles are the only ones I use now. They smell great and do not give me a headache like many candles in the past have done. I feel much better burning these because of the clean ingredients. My latest favorite is Citron. Smells very springy.
Best candles ever!
Long lasting and great smelling. Not cheap like yankee candles that give you a headache. Will never buy candles from another company other then hbc